We have been made aware of a scam text going around claiming that members' accounts have been 'placed on hold' or 'locked' and to click a link to verify their accounts.
⚠️ This is NOT legitimate and should be ignored. Please do not click any links⚠️
Be Fraud-Aware. Look out for red flags such as misspellings, an unusual website address in the link, and a message that tries to get you to act urgently.
NEVER click a link from a message.
We will NEVER contact you and request a code.
We will NEVER email or text you to say your account is blocked.
If you think you have been scammed, please call our member services on 1800 23 24 25 immediately. 
Below are some examples of recent messages received from scammers, as you can see the website URL's are not clcu.ie, and their language tells you to act urgently by using terms such as suspension, disabled, hold and so forth: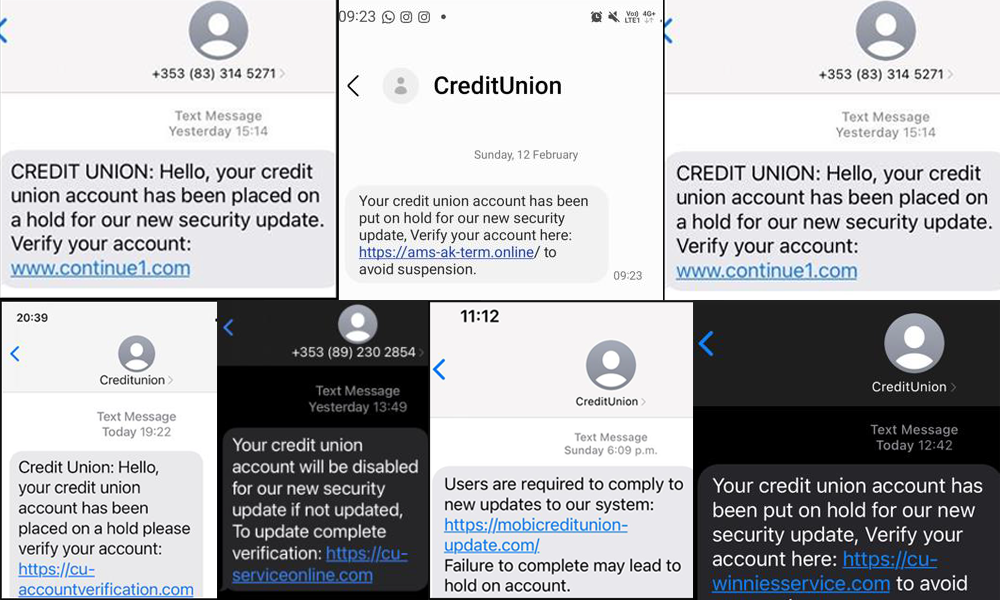 If you do click on a link and you are directed to a landing page like below, exit the page and DO NOT enter any information: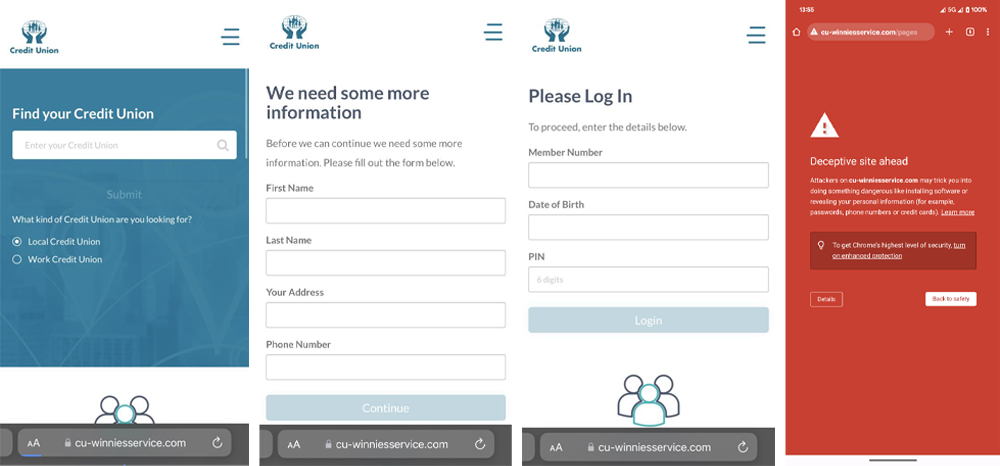 How the scam works:
Attacker downloads the app for the identified Credit Union (requires activation via SMS code).
The attacker then phones the member masquerading as a Credit Union staff member.
The attacker enters the provided information to configure the app
System sends activation code to member's phone by SMS.
Attacker advises member that he is sending a code to the member's phone.
Member reads back the code to the attacker.
Attacker terminates call.
Other types of Scams and Fraud:
We would like to make our members aware of the recent increase in fraud.  Fraudsters are calling people pretending to be from well-known service providers telling customers their service needs to be changed or upgraded.
The Fraudsters are getting customers to download apps such as TeamViewer onto their phones or devices, through which they can take over the device. The fraudsters will then ask for the customers current account or card details and a copy of their ID such as a driver's license to prove their identity. Gardai have advised that if a person falls for this, the fraudsters download an app such as the Revolut app and transfer money from their current account as payment resulting in the fraudster emptying the customer's current account.
In light of the reported increased levels of this type of fraud, we are alerting you about the heightened risk of fraud threats and in particular telephone calls and Text messages from fraudsters purporting to be from legitimate companies such as Amazon, Eir or DHL, who then convince you to download apps such as Teamviewer or Revolut.
If you receive a call from somebody requesting your current account details or debit card details, regardless of what company they claim to be from, or requesting that you install software or an app on your phone or computer, you should terminate the call. If you receive a text message requesting your account information, do not respond or click on any links within the message. You should never provide your debit card, current account details or One-time Passcodes to anyone on an incoming call and if in any doubt about the authenticity of the call you should hang up.
To protect you and your account from fraud, please remember these 10 Top tips:
Never respond to an email or text asking for financial, personal or security information.
Your personal details are precious – always keep PINs and passwords private.
Don't click on links or attachments in unsolicited emails or texts. Log into accounts and websites directly.
Remember, your Credit Union will never ask for PIN, One-time passcodes, or security details.
Don't assume an email, call or text is genuine because someone has basic information like your name or address. Fraudsters use publicly available information to lure you in.
Did you know it takes two people to terminate a landline call? Make sure you hear a dial tone when you hang up or call back to check the caller's ID – and never use a number given to you by the caller.
Always keep your debit/credit card in sight when paying for goods or services.
Cover your PIN every time you pay using your card and at the ATM.
Unsecured public Wi-Fi networks are hotspots for fraudsters – use 4G when shopping or banking online.
If something doesn't feel right, it probably isn't. Stay in control and don't be rushed into making a decision you might regret. It's always better to check, chat and challenge.
If at any stage you provide your account information to a third party like the scenarios described above, or if you are in any doubt about a company that you have provided your account details to, contact Croi Laighean Credit Union on 1800 23 24 25 / welcome@clcu.ie or our Card Services team on 01 693 3333 immediately to advise so we can protect your account.
For further information on how you can keep your current account and debit card safe from fraud risks please read your fraud awareness brochure available here.