Credit Union
Home Improvement Loan
Credit Union Home Improvement Loan
Make your idea of a dream home come true with a Credit Union Home Improvement Loan From Croí Laighean Credit Union. Last year, we provided the community with over €8.5 million in Home Improvement Loans, and we've much more to give. We'll help you get your house in order!
Apply for a Credit Union Home Improvement Loan today or work out an affordable repayment plan with our handy Loan Calculator.
Make yourself at home with a flexible home improvement loan
No set up fees
99% approval rate
Free loan protection insurance
Flexible terms, no penalties for early repayment
Interest calculated only on the outstanding balance of the loan
Quick decisions, with some loans being approved on the same day
Borrow any amount… from new doors to a dream extension, we'll cover it
Repayment Example:
A loan of €60,000 over 7 years would cost €995.77pm at variable rate of 9.99% (APR 10.46%). Cost of credit is €23,616.83 and total amount repayable is €83,616.83. Same amount over 10 years would cost €796.47pm and cost of credit would be €34,743.22
Warning:
While every care has been made in the production of this web page, the Credit Union, or any of its staff, cannot be held responsible for any omissions, errors or other mistakes on the site. This web page is for illustrative purposes only, to give you, the borrower, an overview of the potential cost of borrowing.
This does not constitute a loan offer. Loans are subject to approval. Terms and conditions apply. If you do not meet the repayments on your loan, your account will go into arrears. This may affect your credit rating, which may limit your ability to access credit in the future. For more information, contact us on freephone 1800 23 24 25. Loan amounts and 99% approval rate is based on figures from 2020.
Rates are correct as of 1/10/2020 and are subject to change. Croí Laighean Credit Union is regulated by the Central Bank of Ireland.
You May Be Interested In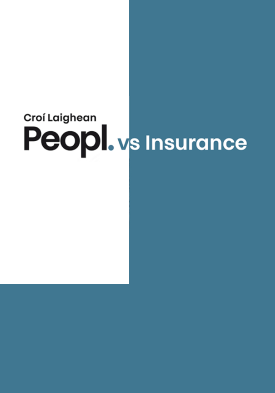 Peopl Home Insurance
Peopl Home Insurance
At Peopl. we believe that insurance should actually work in your favour. Driven by Credit Unions, we've created Ireland's fairest insurer. We believe that only you should profit from….