The Credit Union Current Account - A Better Way To Bank
Say goodbye to excessive maintenance charges! Simply tap and go with contactless payments thanks to our Current Account. Become more than a number and avail of all the benefits of a regular current account at a bank, but with a more personal approach.
Ready To Make The Switch?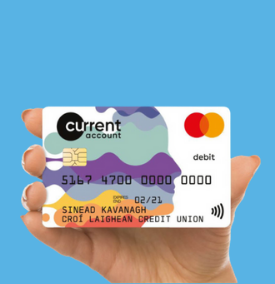 Current Account & Mastercard® Debit Card
Current Account & Mastercard® Debit Card
Your Credit Union is community-focused, but globally minded. Our Current Account with Mastercard is your key to financial freedom, with a debit card that can be used at millions of cash points worldwide or online.
CU Online Banking
If you don't have time to visit us, we can still help you manage your accounts through our smooth and secure online platforms. CU Online is a 24/7 portal for members to access their accounts from anywhere in the world.
Register Now
Frequently Asked Questions