Let's start with the basics…
Croí Laighean Credit Union has a friendly approach to modern finance. Although we are a financial institution, we combine all the traditional friendliness of a Credit Union with the modern banking facilities you demand. We may work with figures all day, but at CLCU you are more than just a number to us.
Croí Laighean Credit Union is not-for-profit, so any surplus is channeled into providing members with better products and services, loan rebates, or dividends. We also help our local community flourish through sponsorship initiatives that support schools, organisations, and clubs in your area.
Every credit union is owned by its members — the people who save with it and borrow from it.
Everyone in our Credit Union is united by a Common Bond — and you're eligible to join if you live, work or study within this area. The common bond defines the area in which a Credit Union can operate.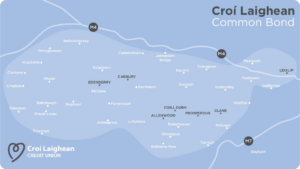 What are the myths of the Credit Union…
There are many myths and misconceptions that have been passed down, but the reality is that a modern Credit Union such as Croí Laighean Credit Union offers everything that a modern bank offers.
You can only get small loans: Myth. We offer a wide variety of loans up to €100,000, and we even offer mortgages and larger business loans.
You must be a member for a long time to get a loan: Myth. You can join today and borrow today, you don't need to have saved with us.
You can only borrow 3 times what you have saved: Myth. You can borrow as much as your repayment capacity allows and it doesn't matter how much you have saved. In fact, Credit Unions are much more flexible in how they underwrite, as all loan applications are assessed by a person.
Credit Unions are more expensive: Myth. We have some of the most competitive loan rates in our common bond. For example, we offer a PCP Buster new car loan with an interest rate of just 5.5% (5.64% APR). Interest is also calculated on your reducing balance… and you get free loan insurance*
Loans take a long time to process: Myth. Loans are generally processed within one working day, and in many cases, quicker.
You can't do day-to-day banking with the credit union: Myth. Our current account offers everything you will find from a traditional bank, but with a low monthly maintenance fee of just €4. You also get a globally accepted MasterCard debit card and access to our online banking portal and app.
Credit Unions are old fashioned: Myth. Croí Laighean Credit Union offers online banking, a mobile app along with traditional banking. We have everything you need including secure online banking, a dedicated Member Services Call Centre and convenient branch locations. We offer these services because one size doesn't fit all. Sometimes you may need to talk to a real person, even if you normally bank online.
Credit Union vs Banks: the differences
Credit unions are very similar to banks, they offer similar services and operate in a similar way. Here at Croí Laighean Credit Union, we offer current accounts, savings accounts, loans, and other services that you would find in a regular bank. Now you're probably thinking "so you are basically a bank" and the answer to that would be no…
The main difference between a Credit Union and a bank is that Credit Unions do not work for a profit and serve only to benefit their members – banks operate to earn a profit, benefiting their shareholders. We offer financial education, and community support – in the last 6 years we have donated over €600,000 to local clubs and groups.


Our underwriting is also more flexible to make borrowing easier for our members as loan applications are assessed by a person, not an algorithm. We assess your repayment ability, and we can tailor a loan to suit. We also offer advice to ensure our members get the very best service and the Credit Union has won the customer experience award for the past 6 years at the official CXi awards.
The Credit Union also offers a host of other benefits including:
Free Loan Insurance*. Your loans are insured at no direct cost to you which means that in the event of your passing, any outstanding loan balance will be paid off to relieve any financial stress on your loved ones, during this difficult period.
Nomination of your funds*. This facility enables you to nominate a recipient of your funds should you pass away. The nomination facility ensures that your funds are easily transferred to your loved ones in a timely manner.
Life benefit insurance*. This is a unique additional benefit at no direct cost to you, paid to your nominated person in the event of your death.
Who can become a credit union member…
Anyone can become a member of Croí Laighean Credit Union if you live, work or study within our common bond area.For more information on joining us, you can call our member service center or drop into your nearest branch.
What does it mean to be a Credit Union member…
As a member of the Credit Union, you instantly become one of its owners. This means you have a say in how it is run, might earn a dividend back from any profits made, and can run to be on the board who manage the Credit Union.
Compared to regular banks, Credit Unions tend to offer slightly lower rates of interest on their lending facilities. This is because CUs are all about offering a fair and more adaptable service to everyone in the community, helping to tackle social exclusion. At Croí Laighean Credit Union, we have taken the steps to create the fairest possible application process that we can. We use manual underwriting to make a decision on an application. This often means we will take into account the circumstances surrounding your credit score or past defaults, and use this to make a choice, rather than automatically saying no.
You have your say. Our annual general meeting (AGM) is held once a year, where all members are invited. This is the chance to have your say and speak with the board, and those working within Croí Laighean Credit Union, to discuss changes and updates. When a change is proposed, the majority vote determines if the change will go ahead or not.